4.0 m knife roller hydraulically foldable on the tractor's front/rear suspension system LUPUS
The 4.0 m wide LUPUS knife roller is made up of two cutting rotors with a diameter of Ø 380 mm. Each rotor consists of six segments on which cutting knives made of 8 mm hardox are mounted. Shaft guards made of sheet metal are standard equipment.
The weight of the 4.0 m machine is 1520 kg. We are able to produce any width of shaft on request.
Due to the high speed and high number of cuts per revolution, the post-harvest cutter roller effectively shreds crop residues on maize stubble. The machine can also be used successfully on stubble fields after other crops, e.g. oilseed rape, and is excellent for removing tall catch crops that are difficult to cover even with deep winter ploughing.
The Lupus tandem knife roller can be used alone as well as in combination with other finishing machines attached to the tractor's rear linkage. The machine can work at a speed of 5-20 km/h, and the recommended working speed is above 12 km/h, the working depth should not exceed 3 cm.
Design – a major asset of the LUPUS knife roller.
The two rows of cutting knives are designed in such a way that there are no gaps in the field between the individual knife segments.
Why is it so important to shred crop residues in maize stubble? The knife roller cutting solution.
– During the destruction of the maize stalk in the field, the habitat of the corn borer larva is destroyed, where it burrows for the winter.
– Crumbled plant residues decompose much faster in the soil, whereas if this is not done, they will interfere with further agro-technical operations, because even a plough equipped with ploughshares cannot cope with the combine residues.
– Mainly on heavy soils, the ploughing in of undecomposed residues will result, through lack of air access, in very slow decomposition and the formation of a layer of 'felt' that blocks water absorption and is a barrier to the development of the root system of the next crop.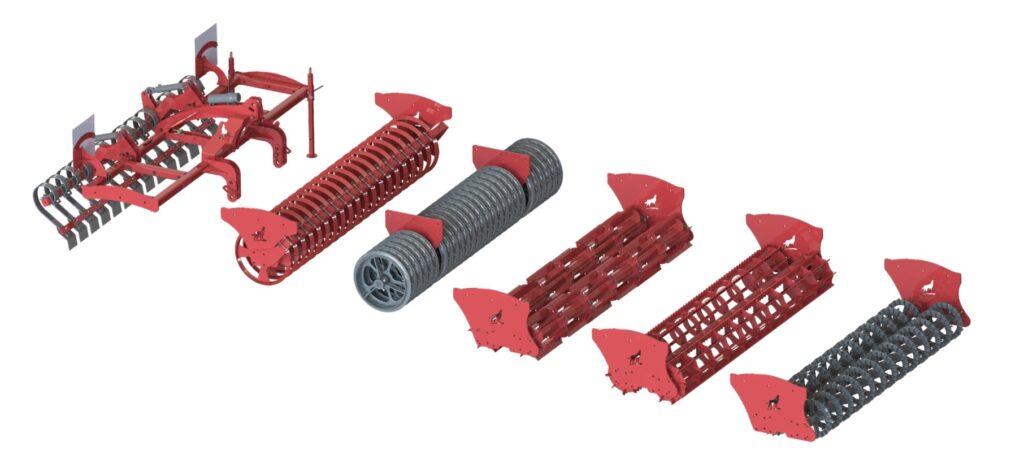 An additional advantage is the versatility of the frame of our shafts.
We can use as many as 16 different rollers on the same frame, which creates as many as 16 different machine configurations that we can tailor to the individual needs of our farmers and the variety of land they own.
Where to buy?
ul. Mleczarska 6, 06-400 Ciechanów, POLAND
We are a manufacturer and distributor of agricultural machinery. We have been operating in the agricultural sector since 2008. You can see the machines at our yard in Ciechanow at Mleczarska 6. We have our own transport, so there is no problem with transporting the machine to the other end of Poland.
We also organize international transport, the cost of international transport is calculated individually.
How to buy?
Feel free to contact us by phone to arrange the details:
+48 798 988 179 WHATS UP
Feel free to contact us by e-mail to arrange the details: